Getting There from Here and Back Again: 2017 Edition
Aug 15, 2017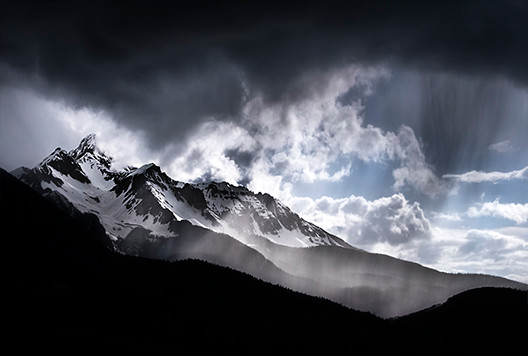 Mike and I have been travelling from Maine to Moab, UT in the spring for three years now to teach night sky photography workshops. As Moab is nearly equidistant from five good-sized airports – Salt Lake City, UT, Las Vegas, NV, Denver, CO, Phoenix, AZ and Albuquerque, NM – we could fly in to any of these airports and then rent a vehicle. The first year we chose Salt Lake City and the second year we chose Las Vegas. Though both choices allowed us to conveniently visit other locations along the way to and from Moab, we thought making a true road trip out of it for spring 2017 would give us even more opportunities to explore and become inspired.
As most landscape photographers and lovers of beautiful scenery will attest, you'll rarely see arresting views along highways at speeds of 55 mph to 85 mph. So, we factored in a few areas we wanted to see that were just off, or reasonably near, some major cross-country highways. Then we wound up taking a lot of back roads and Scenic Byways.
One of the popular sayings in Maine is: "You can't get there from here." This isn't entirely true about travelling in Maine. Really, the phrase – best heard in a 'Down East' accent so it's pronounced "You can't get they-ah from hee-ah" – simply refers to the fact that you may have to take a million back roads that make your journey seem impossible.
As a Mainer, I mention this because our road trip from Maine to Utah and back sometimes felt like we couldn't 'get there from here.' The feeling of impossibility came from having so many possible new scenes to photograph and stopping so often that our destination seemed like it would take forever. A good 'problem' to have, right?
Here are some of the locations and experiences that inspired us along our journey from 'here' to 'there' and back: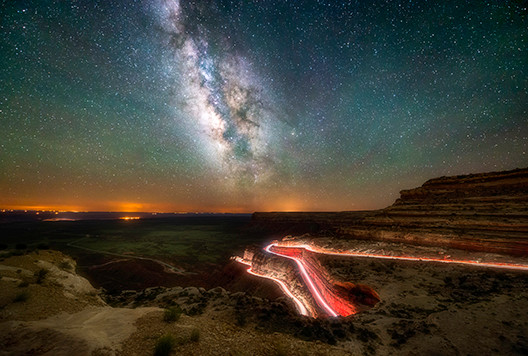 Colorado National Monument (CO)

Arches National Park (UT)

Canyonlands National Park – the Island in the Sky and Needles sections (UT)

Dead Horse Point State Park (UT)

Wilson Arch (UT)

Bears Ears National Monument (UT)

Goose Necks State Park (UT)

Moki Dugway (UT)

Monument and Mystery Valleys (UT/AZ/Navajo Nation)

Black Canyon of the Gunnison National Park (CO)

San Juan Mountains near Telluride, CO

Independence Pass/Continental Divide (CO)

San Isabel National Forest (CO)

Twin Lakes, CO

Rocky Mountain National Park (CO), and

Great Sand Dunes National Park (CO).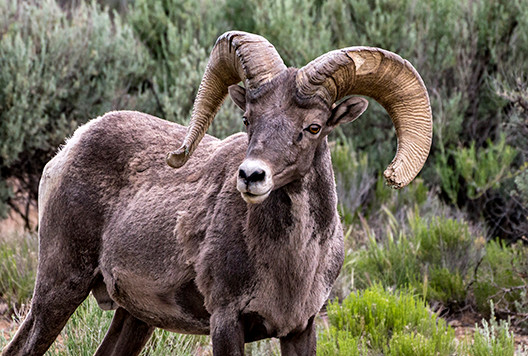 A few of the memories that stand out for us are;
Taking a 4 x 4/Unimog tour to reach a gorgeous, quiet spot to shoot the Milky Way near Moab, and seeing our first Proton Arc and the Aurora Borealis (in Utah!) and having our workshop clients capture them.

Learning about Navajo and Anasazi history and culture on a Navajo-guided sunset tour of Mystery Valley with wonderful friends.

Reaching 12,000+ feet above sea level - with roadside snow banks of 8 – 10 ft. in early June - on Trail Ridge Road through Rocky Mountain National Park.

Visiting the historic Stanley Hotel in Estes Park, CO (it served as inspiration for Maine author Stephen King's The Shining).

Viewing and photographing a beautiful, full rainbow over the plains near Fairplay, CO.

Seeing our first Big Horn Sheep in Colorado and New Mexico.

Returning to Telluride, CO, where we were engaged last year.

Visiting Taos, NM and Memphis, TN for the first time.
Travel is just one way we get inspired to create and to appreciate this amazing planet we call home. What is your favorite way to travel? What adventures do you have planned? What inspires you to create?
Most of these images are available to purchase in our online gallery. Simply click here.
Stay tuned for more images from our road trip…